Information about several FPGA boards I own and required support files, datasheets etc. – most pictures and links provided are directly from the manufacturer's sites.
Quick links:
XILINX boards
A few "no-name" boards from China are built upon the Spartan 3E FPGA. Basically, the XC3S500E or larger types are already quite useful for retro projects. At least any computer with about 40KiB (for RAM and ROM) should be possible to implement without additional external RAM.
The classic evaluation boards using Xilinx FPGAs are produced and sold by Digilent. But you can find them in other online shops as well. They provide an excellent web page with plenty of resources to start with. They also standardised simple expansions using the PMOD connectors, so you may be able to use expansions for many boards they sell.
Newer boards may use Spartan 6, but even this FPGA are about to be overtaken by the much more powerful Atrix-7 FPGAs. So if you are just about to start, don't bother with the old FPGAs and buy the latest technology, which might be even cheaper than the old platforms. But boards with newer FPGAs than Spartan 3E you may find only from Digilent, at least I couldn' find them anywhere else.
Here is a list of boards I used for some projects.
FDIL board (Pin4.at)
This is my own developed board using Spartan 2 FPGAs. The reason to use such old chips is the full 5V compatibility. This makes it perfect for replacing early custom chips in packages up to 42pin DIL.
It is not really useful for FPGA development as such, but I use them to repair old arcade boards and to use them for in-situ debug my own custom chip replacement code I can use later for FPGA projects of the whole game.
SPARTAN 3E starter board (Digilent)
The first board I owned. Available with 500k or1600k system gates FPGA. It is now retied for quite some time, but you may be able to get a used one.
It has plenty of memory, PS/2, UART, VGA connectors and even an ethernet port to implement many systems. It didn't have many PMOD connectors, though. It has an on-board programmer compatible with the Xilinx ISE tools.
Replay v1 (fpgaarcade.com)
This board is build around the Spartan 3E with 1600k system gates and additonal DDR2 memory. It also incorporates an ARM microcontroller which allows loading FPGA configurations from an SD CARD into the FPGA. If offers PS/2 and joystick ports, along with a DVI-A/D video interface. So perfect to build any vintage computer. It had a very good value for its price (around 250€), but as far as I know it is no longer for sale – but you may find used ones here or there.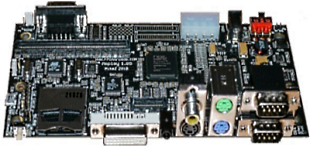 You can download several 8bit and 16bit platforms for this board. Using an extension board, you may even use external processors, like 680×0 CPUs. A great board, but a bit outdated meanwhile – a successor, the Replay V2 board, is already in work!
I also did a few cores for that one and helped a bit on implementing its infrastructure on FPGA and µC side. Due to its feature-rich hardware setup, it is not really a beginner's board to start with. So to learn FPGA programming, you may use an easier to handle board as shown below.
Papilio One 250k/500k (Gadget Factory)
Papilio boards are sold by Gadget Factory. They are plain FPGA boards with I/O connectors and a programming interface via USB. To do something really useful, you need some add-on hardware.
This means the set up will not be much cheaper for a proper setup to work with than taking boards which has already some LEDs, switches or displays on board. What might be interested is the fact, that you can buy already some extension boards with MIDI or joystick connectors.
Anyhow, the maximum configuration is a Spartan 3E 500k, which is not so much to have enough reserves for your future projects.
NEXYS 2 (Digilent)
An feature-rich evaluation platform around the Spartan 3E FPGA, either with 500k or 1200k system gates. It is no longer produced, but there are still some boards available. But this board is not really cheap (list price about $350,- for the 500k version).
The NEXYS 2 provides 2x16MB additional memory and a lot of I/O, including PS/2 input, UART and VGA output, to implement many of the old 8bit arcade and compute systems. On top, it has several 2×6 pin pmod connectors, e.g. for joystick extensions. It also has an on-board programmer compatible with the Xilinx ISE tools.
Papilio Pro (Gadget Factory)
A board compatible with the Papilio One, but this time with a Spartan 6 LX9 and 8 MiB (64MBit) SDRAM.
In principle it is the same to say about as for the Papilio One – but this one has a more modern FPGA and some additional RAM.
NEXYS 3 (Digilent)
TODO
NEXYS A7 (Digilent)
TODO
This board is used at CUAS in courses of Prof. Ley for several lectures / student projects.
BASYS 3 (Digilent)
TODO
ZYBO – Z10/Z20 (Digilent)
TODO
INTEL (ALTERA) boards
One can find way more no-name boards from China with FPGAs from this company, starting with Cyclone (1) up to Cyclone V. These FPGAs are usually also a bit lower-priced than Xilinx board. An Altera Cyclone IV E10 can be somehow compared with a Xilinx Spartan 3E 500k (my opinion based on experience, not technically proven).
What Digilent provides for Xilinx FPGAs, there is Terasic for Altera FPGAs. I own some of these boards as well and will use them for my projects.
Cyclone learning board (noname)
TODO
Cyclone II eval board (noname)
TODO
ZRtech v2.00 (imported from China)
A Cyclone IV (EP4CE6) board with I/O, ADC, PS/2, VGA and UART connectors. Also some SDRAM, switches, LED and 7segment displays can be found on the PCB.
Usually ships with a "byte blaster" clone for programming. You can buy this sets really cheap ($30-$50), if you want to try out FPGAs and do not know if you really want to continue with them, this is a good way to start.
Other Cyclone IV boards from China
You can find many similar boards (as above) with either an EP4CE6 or an EP4CE10 (cost a bit more) in the usual China shops. I saw even some EP4CE115 boards for around $80, which allows already quite large projects to be mapped. Compared to Xilinx boards with such FPGA capacity these boards are really a bargain.
I ordered already several different boards, I have to say that all of them were working properly. Usually the support of this boards is fairly good as well, no bad experience from my side up to now. You can use the byte blaster you get in one of these FPGA sets later on for your own HW designs or other Altera boards as well, you can order further boards w/o programmer and save some money as well.
DE0 (Terasic)
TODO
DE10 nano (Terasic)
TODO
Cyclone V eval board (noname)
TODO
---
More to come soon…
---